Warning: This topic may be triggering to some.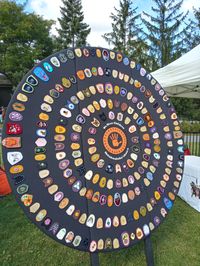 Everyone who attended the #NDTR activities downtown today pulled from it their own experiences. The most striking for me was this collection of vamps (the top part of a shoe, or, in this case, the decorative portion atop a moccasin), one for each of the souls found on the grounds of the residential school in Kamloops BC. 
Each beautifully hand crafted with care and love. Their small size conjured unheard echoes of excited squeals that would have come from their intended wearer. Followed quickly by thoughts of my own children, how precious they are to me, and how soul crushing it would be to have them taken from me.
I stood and stared at each vamp as an Elder named "Duck" shared his experience over a loudspeaker a hundred yards away.
The beads glistened and sparkled in the sun. Strawberries. Waters. Stars. Flowers. Hands...
Elder "Duck" spoke more to his peoples than he did to me.
Tiny hands...
He spoke of coming together in normal times, not just in times of crises.
Tiny, tiny hands...
An Indigenous Lady gently passed by me and placed her hand over the one at the centre of the display. I watched as she bowed her head, lips moving speaking inaudible feelings.
Another hand...
She pulled hers away, kissed it softly and returned it to the display adding her self both symbolically and literally to the collection of souls marred by not-so-historical acts of righteousness.
When I think of my children going to school, my orange is a school bus and the emotion is pride.
Their orange is about school also, and very much about pride.
The difference is gutting.
To the right of the vamp display, a small poster held about 10 descriptions that had accompanied some of the artful designs. They too were beautiful. I asked if there was anything available that had the descriptions for each of the vamps and I was told a Facebook page would eventually be created to hold each image and their artist's description. I will add a link to it here once it has been created. As of May, 2022, this is all I've been able to find: Vamps at NNATC